Breast Care for Washington (BCW) was founded in 2012 as a community-centered breast cancer screening organization to enhance access to breast cancer screening and care among medically underserved women in the Washington, DC area. Our founders are two local women – Dr. Regina Hampton, a breast surgeon and Beth Beck, former Executive Director of Capital Breast Care Center. Both women are well respected in their fields and have extensive experience in providing medical care and patient advocacy for medically underserved populations. The programs and services of BCW are innovative and embed breast cancer screening within a federall qualified healthcare center (FQHC) located in the District of Columbia's Ward 8. BCW's service facility is the first and only comprehensive breast cancer screening facility with 3D technology east of the Anacostia River.
The primary goal of Breast Care for Washington is to make breast cancer screening readily available and accessbile to all women, especially those who receive their care from community health systems. To that end, the organization's mission is to reduce breast cancer mortality in the Washington, DC area by promoting access to breast cancer screening, diagnostics, and treatment to all women regardless of their ability to pay.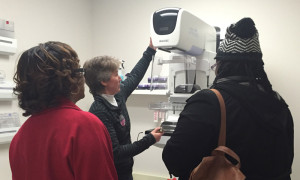 Since opening our doors in May 2014 Breast Care for Washington has screened over 3,700 women (1,176 in 2016) and diagnosed 32 cases of breast cancer. The majority of our patients are residents of Wards 7 and 8 of the District of Columbia although we have no geographic restrictions on the patients we see.   Approximately 87% of our patients are of African American descent followed by Hispanic/Latina (10%) and other including African and Caribbean immigrant (3%). 30%-50% of our patients are uninsured. Breast Care for Washington is the only area mammography facility that routinely and consistently provides care for all uninsured patients.