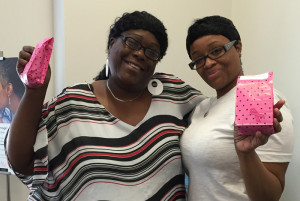 As an independent nonprofit organization, Breast Care for Washington depends on the support of individual donors to achieve our mission of providing lifesaving screening services to any woman regardless of her ability to pay.  In order to meet our mission of turning no woman away, we welcome philanthropic support from individuals, corporations and foundations.
Make a donation Online
You can make a safe online donation through our website or by visiting give.breastcaredc.org.
Make a donation by Mail
If you prefer to donate by check, mail your donation to: Breast Care for Washington
4 Atlantic Street SW
Washington, DC 20032.
Fundraise for Breast Care for Washington
Breast Care for Washington is grateful for the incredible support we receive from the community with independent Fundraising Projects. Each year members of our community commit their time and energy to host fundraisers and events benefitting BCW. We are so appreciative of these individuals, businesses and groups.
If you would like to join these valuable community partners to support our efforts on the behalf of the uninsured, please contact Susie Jackson at 202-465-7164 or sjackson@breastcaredc.org.
Breast Care for Washington makes every effort to keep all donor information confidential. Donor information is not sold, traded, distributed or conferred to any source outside Breast Care for Washington.
Breast Care for Washington is a 501 ( c )3 organization and all charitable gifts are tax deductible to the extent permitted by law.