Driving past a sign in her neighborhood, Mrs. Patricia Holden stopped and entered Breast Care for Washington as a walk in. She was subsequently diagnosed with breast cancer in October 2015.  Patricia credits our 3D technology for giving her precious time with which to treasure days of good health and spend with her family.
Breast Care for Washington is the FIRST and ONLY facility to offer state-of-the-art 3D breast cancer screening east of the Anacostia.
Thank you to everyone who made our special evening honoring three Women of Vision such a success.  With your help we were able to raise over $70,000 to help fund mammograms for medically underserved women.
32 Cases of Cancer Detected
3,700 Women Screened
30% of Patients Uninsured
We need your help to continue to be able to provide life saving mammography services to local women. Won't you join us in our quest to reduce to the nation leading breast cancer mortality rates found in our area?
October was a busy month for us as we participated in over 25 different Breast Cancer Awareness Month events!  From businesses to schools, churches and civic groups, we would like to thank all our partners who joined us in spreading the message of breast cancer awareness and raising funds to support care for our patients in greatest need.
Our Mission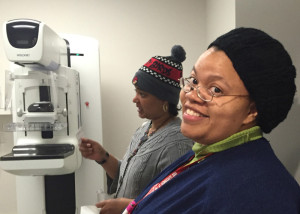 To reduce breast cancer mortality in the Washington, DC area by promoting access to breast cancer screening, diagnostics, and treatment to all women regardless of their ability to pay.
Breast Care for Washington is a FDA accredited and licensed mammography facility.
Need a Screening?
Mammography Screening
-Tuesday through Friday: 8:30am – 4:00pm
-Bimonthly Saturdays by appointment
Diagnostic Screening (Referral Only)
-Thursdays 9:00am – 3:00pm
Appointment Request
Insurance Information
Or call 202-465-7164 to schedule your appointment.